1.1 Albert Einstein, Ideas and Opinions,page 290. He is not implying that there is an "correction" or a "betterment". Just a refinement.
and
5.2 Philosophers ask questions about the true nature of Reality and whether or not we will ever understand it to our satisfaction. We must leave them to it.

This is a much re-quoted line from Albert Einstein: "The whole of science is nothing more than the refinement of everyday thinking," so I looked it up. His book Ideas and Opinions is a collection of earlier published work. Albert was 57 when he wrote the following: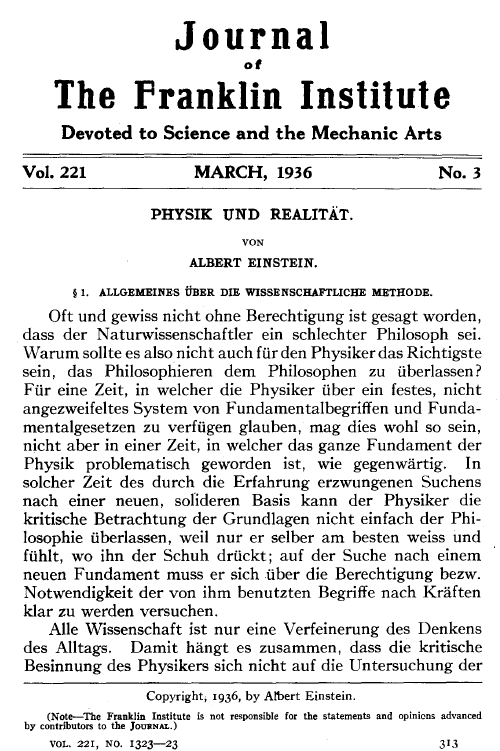 What is most interesting here is that in this essay he is saying that the people best suited to philosophizing about a science are the scientists that understand the discipline well. This suggests that there would not be a single Philosophy Of Science, but a Philosophy of the Science of Physics, a separate Philosophy of the Science of Psychology, etc. I think that makes a lot of sense.
---
2.17they talk mostly about static electricity.
and
2.18the "electricity of chocolate".

I went into the Encyclopedia Britannica expecting to find some connection between electricity and magnetism. The encyclopedia was a reprint of an earlier edition and was not up to date. It was actually about 20 years behind since working batteries had been known for that long. You need batteries for electric current flow unless you are content with sparks and lightning. (One of the articles was about the damage sustained by one researcher, and his subsequent death, by lightning.)

But in those 160 pages of the articles "Electroscope"(xyz pp) and "Magnetism"(pdq pp) and "Electricity"(pdq pp), I discovered a completely different mind at work. They simply did not have a real clue what they were dealing with. The particles, electrons, were too small and too foreign to their minds. They did have a lot of "theories" though. The article suggests that elecrticity could be one of these:
Electricity is a fluid
Electricity is two different kinds of fluid
Electricity is a material object (like a ball is an object)
Electricity is heat
Electricity is atmosphere
Electricity is a "molecule"
Electricity is "dialation"
Electricity is light, and vice versa
Electricity is an acid
Electric action is like gravity
If you read the book "The Scientist in Each of Us" you will recognize those statments as claims, not theories. None of them explain anything. This is what I mean by not having a real clue. There really was no useful theory and researchers seemed to go looking for data, signs of electricity whereever they could find it. The idea that it's an acid came from the smell and "taste" of an electric jolt. The Encyclopedia Britannica entry for the electricity of chocolate shows just how curious yet undirected they were in their research.

Ben Franklin seems to have done the best job. He said that the electric fluid seems to repel itself, but has an affinity to other objects. And indeed electrons repel other electrons, and will attract/move into any conductor that will have them.
---
3.10 (Stories of Science and Invention, 1959) This little book is still available used, on Amazon:
http://www.amazon.com/Short-Stories-Science-Invention-Collection/dp/B0007FEVOE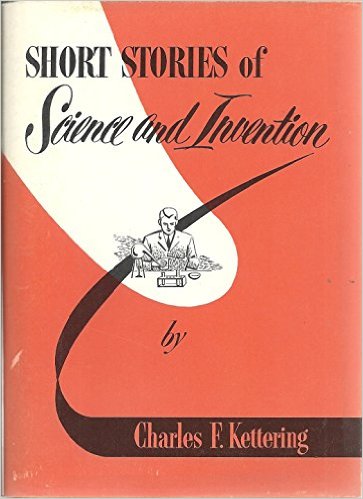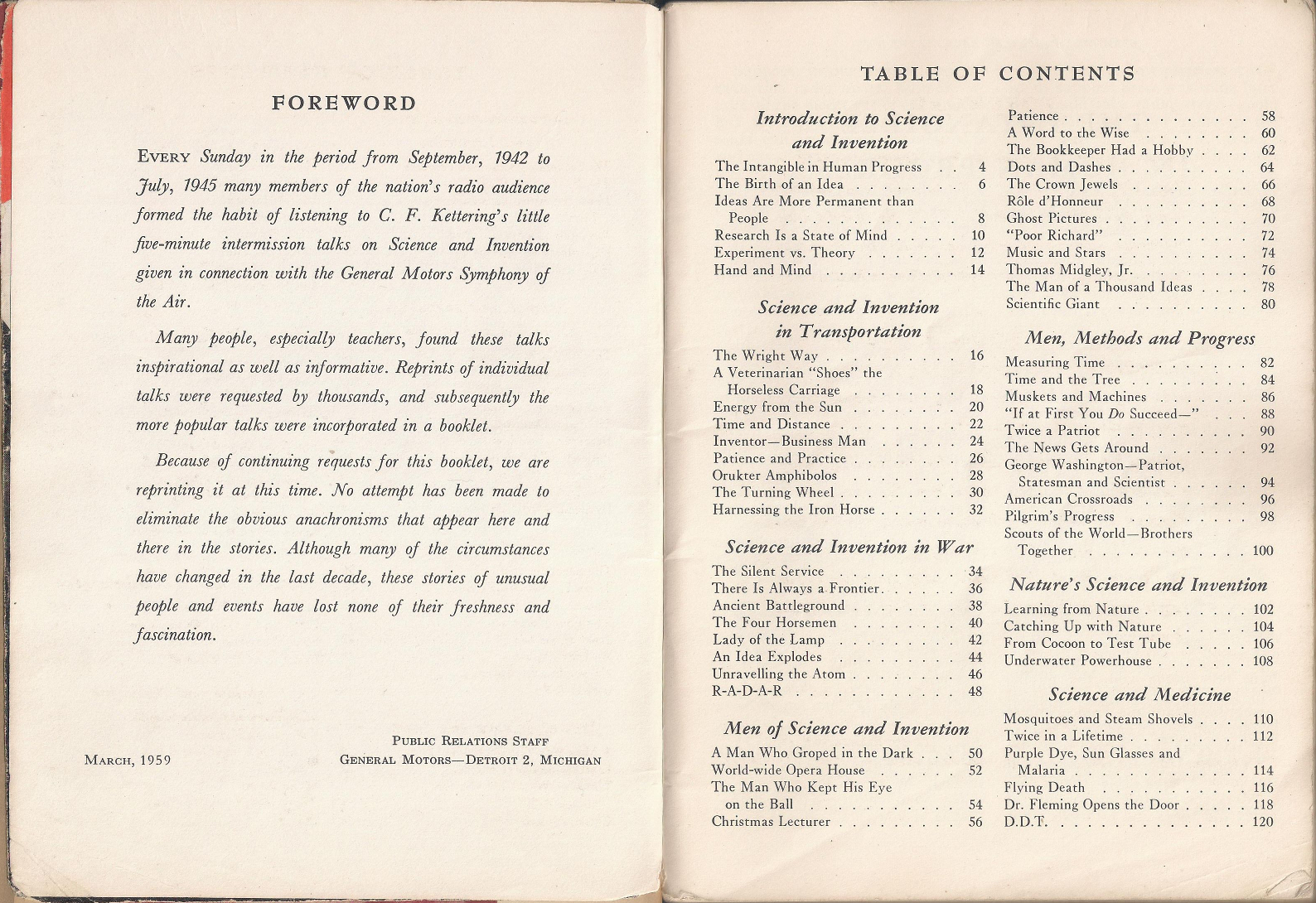 If you read the foreword you will see that these radio broadcasts aired during World War II. A terrible time, but for those 4 minutes of Science and Invention talks on the radio it must have felt like a marvelous time to be an inventive person curious about the world.

---
6.5 bees can't fly
"Bees can't fly". What an odd thing to say. No one knows exaclty where this odd little quote started, but we suspect it came from the introduction to Le Vol des Insectes., Antoine Magnan, 1934. I wondered what exactly he did write, so I got a copy.

But first, here is a video showing what I explain in the book: Bee wings flex

Here's the book, finally arrived from Italy. Uh oh. It had a rough ride here.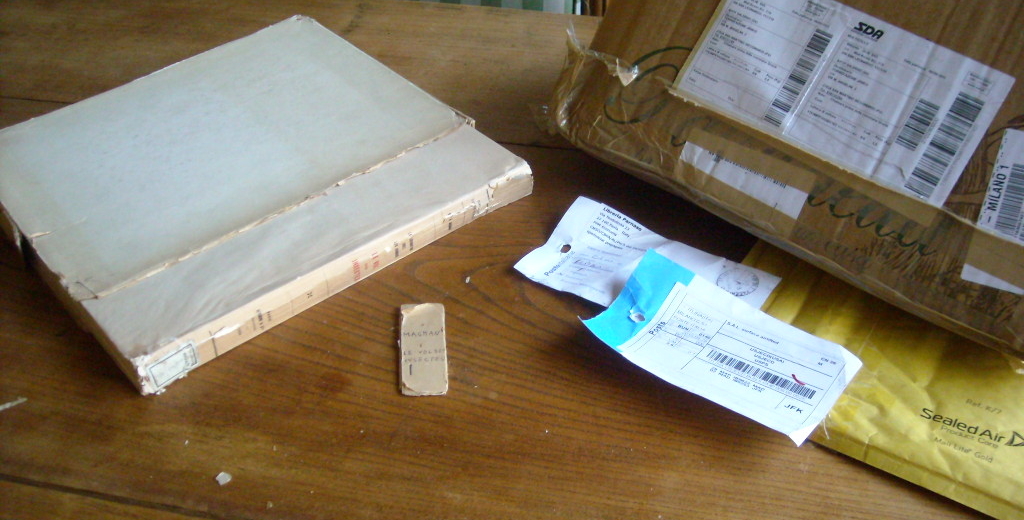 The paper is heavy, but brittle.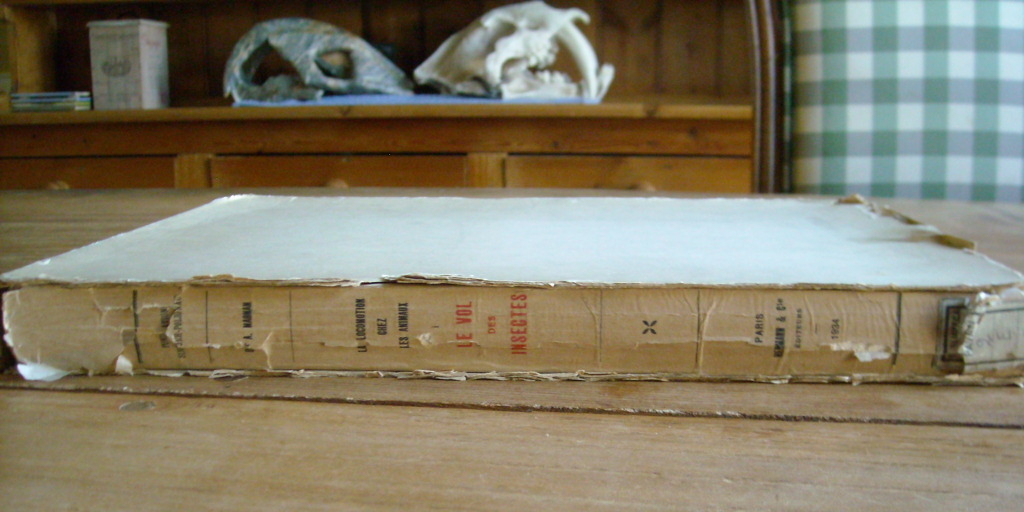 Here it is, out of its case. It doesn't have a hard cover.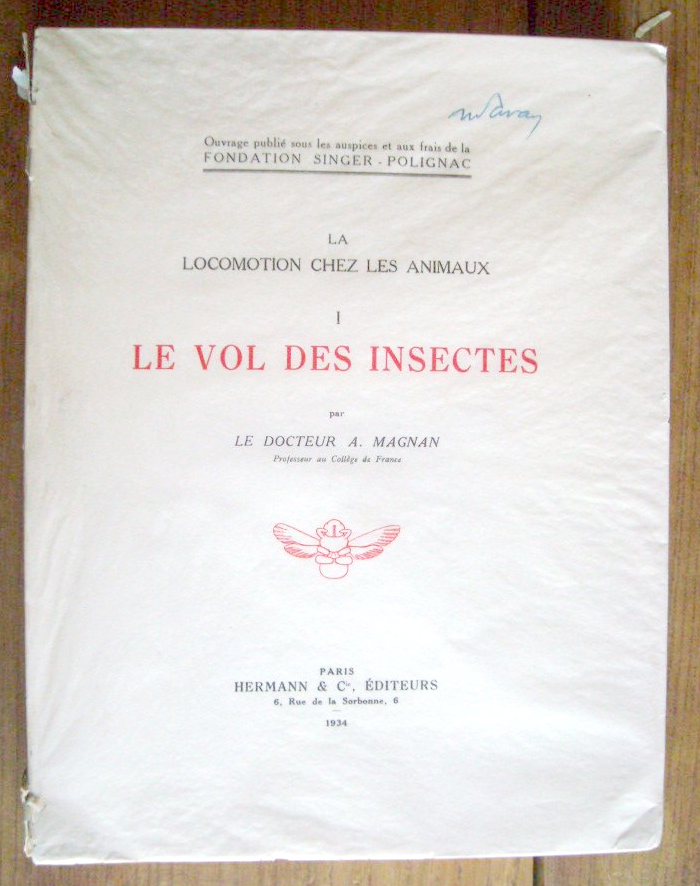 And ... oh my. This copy has never been read. The pages are still uncut. I will have to slice them ...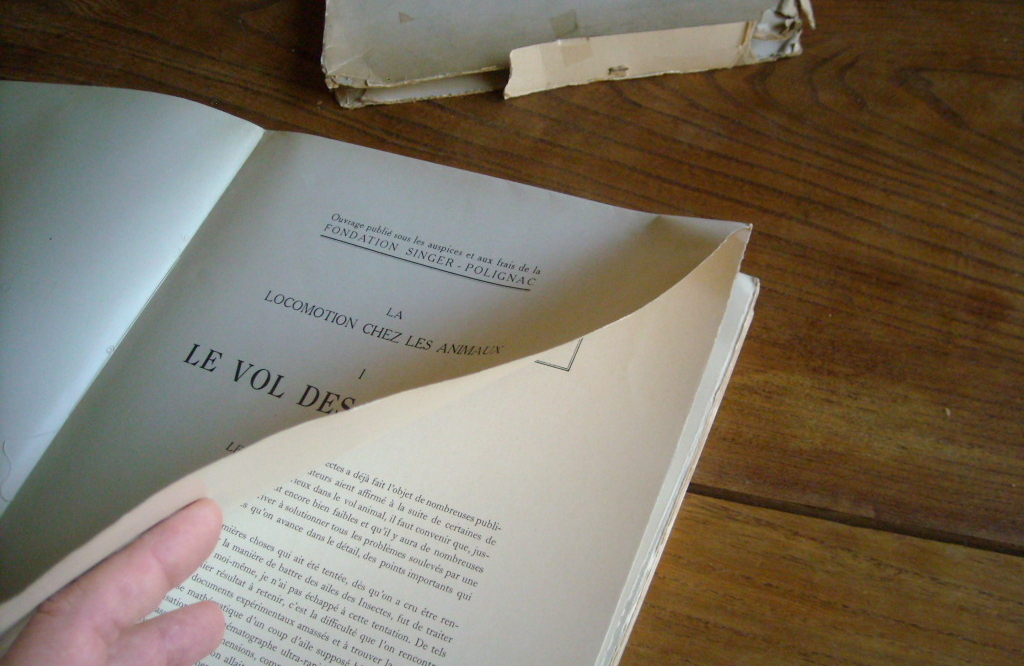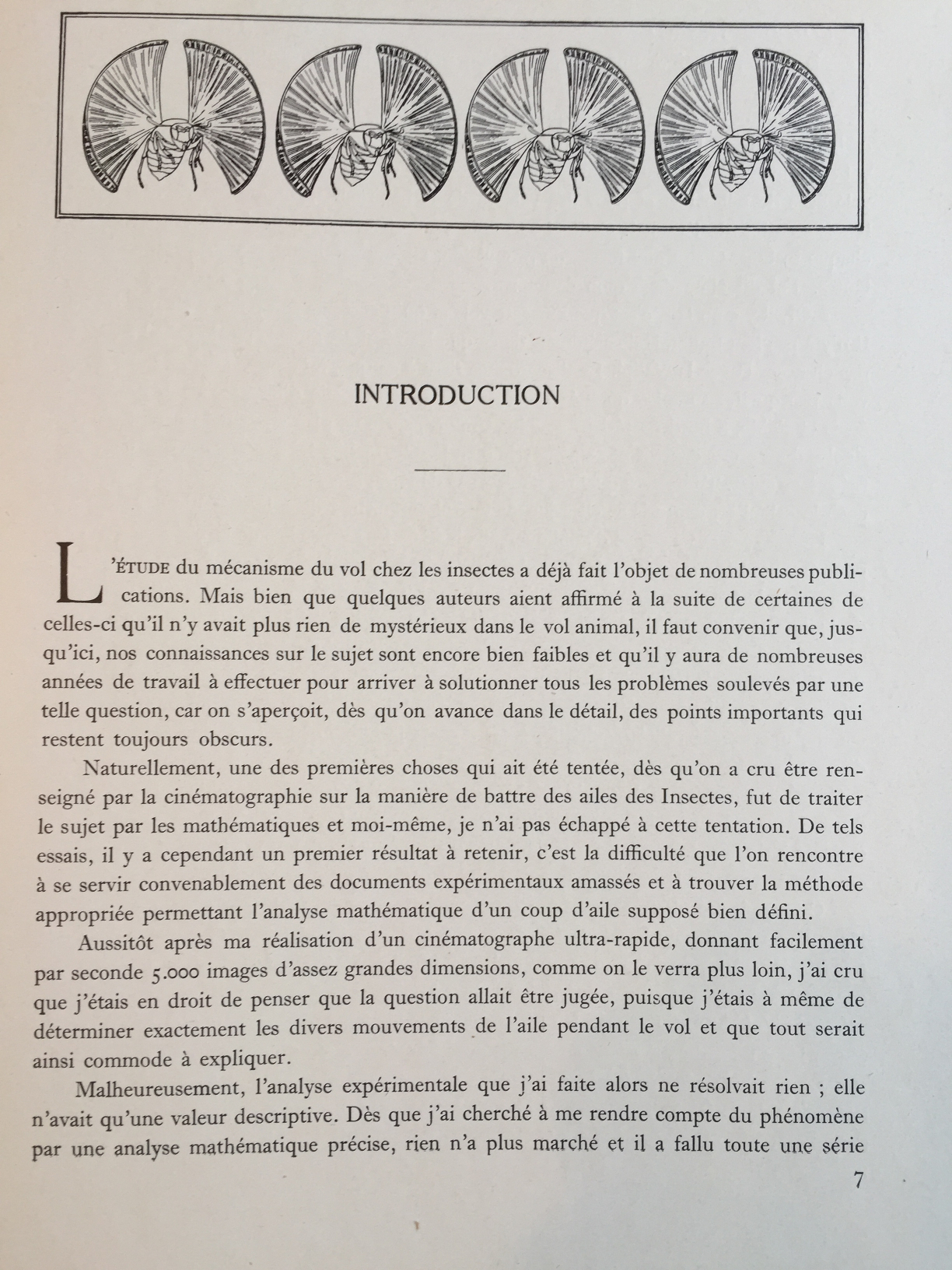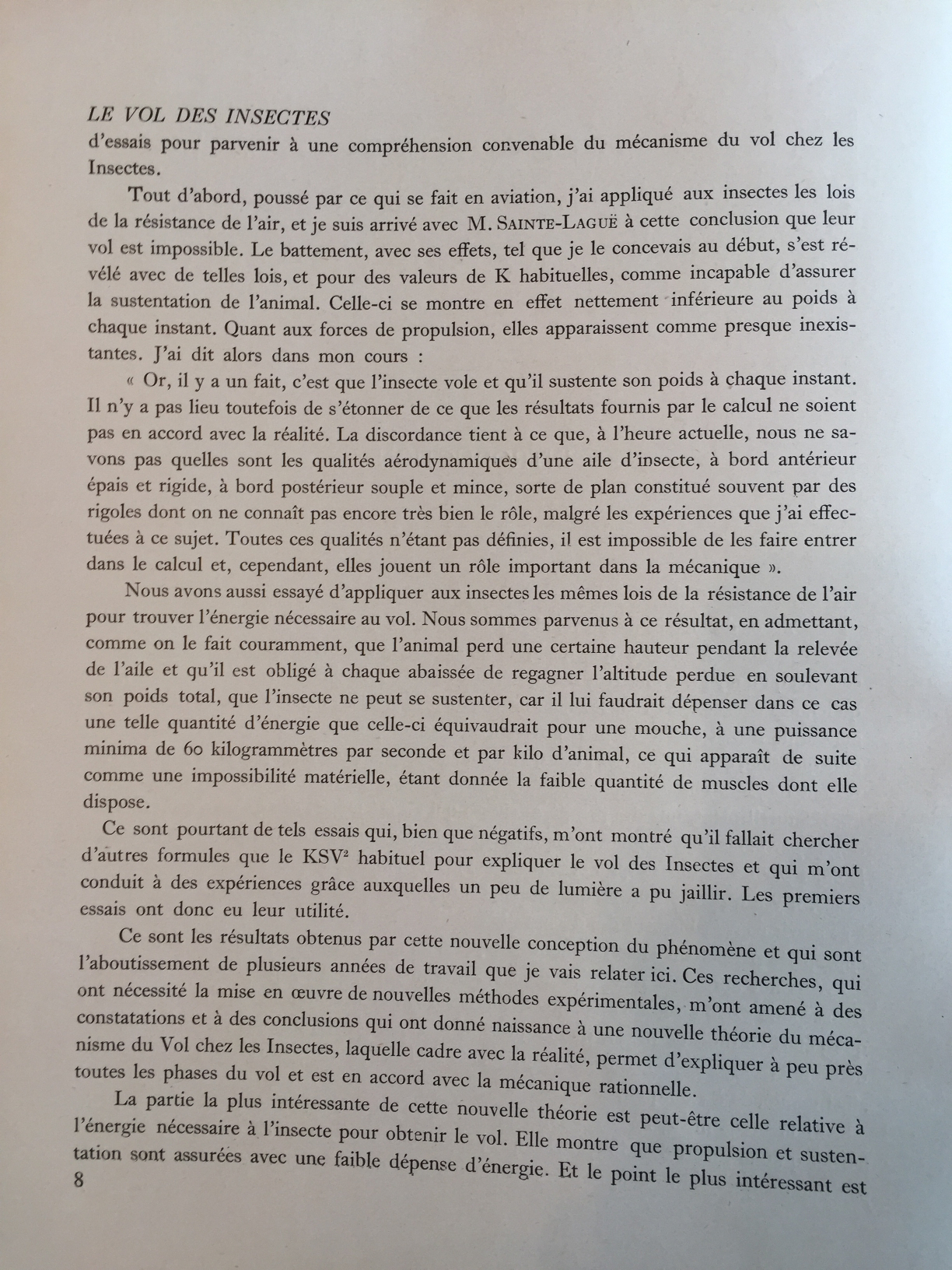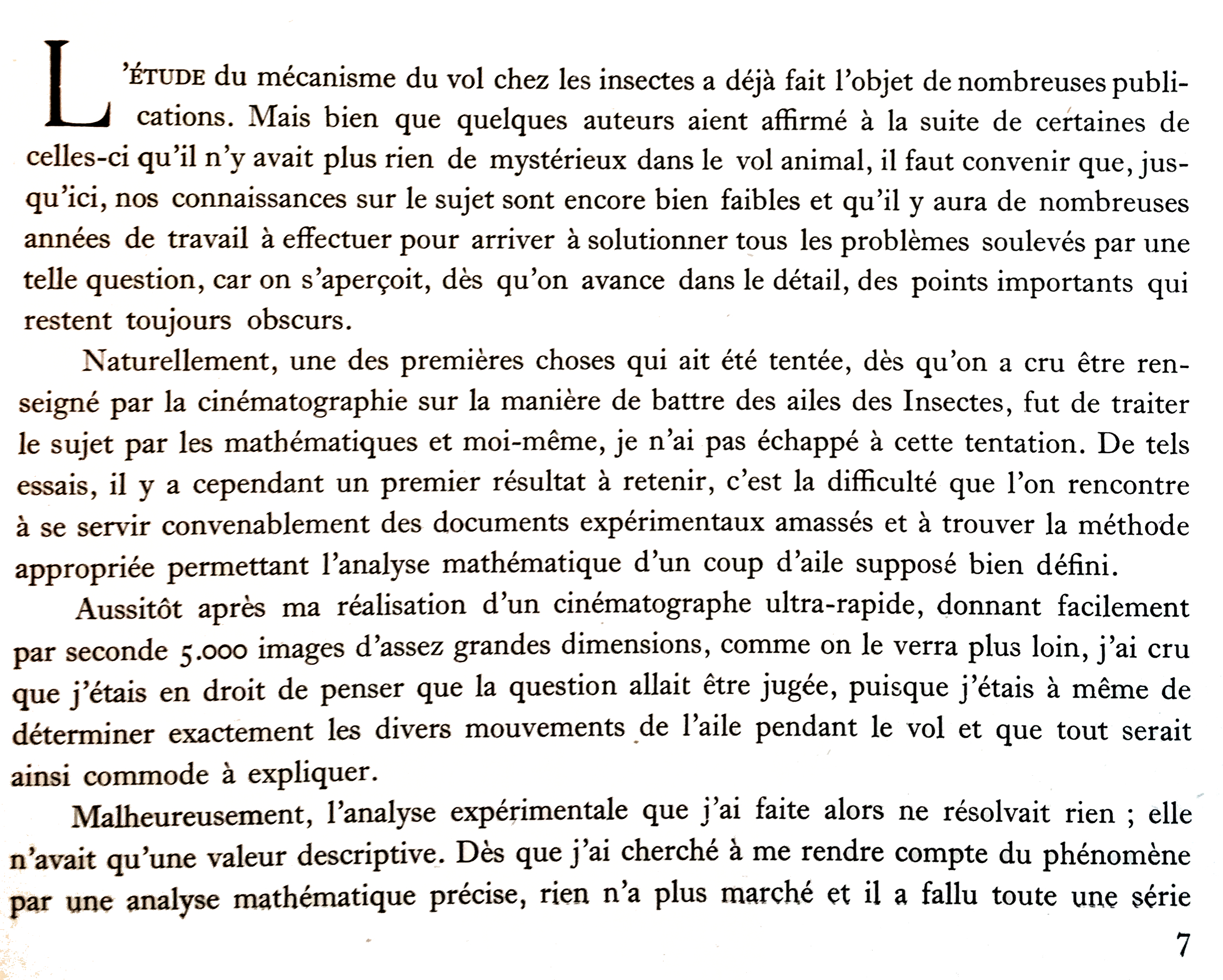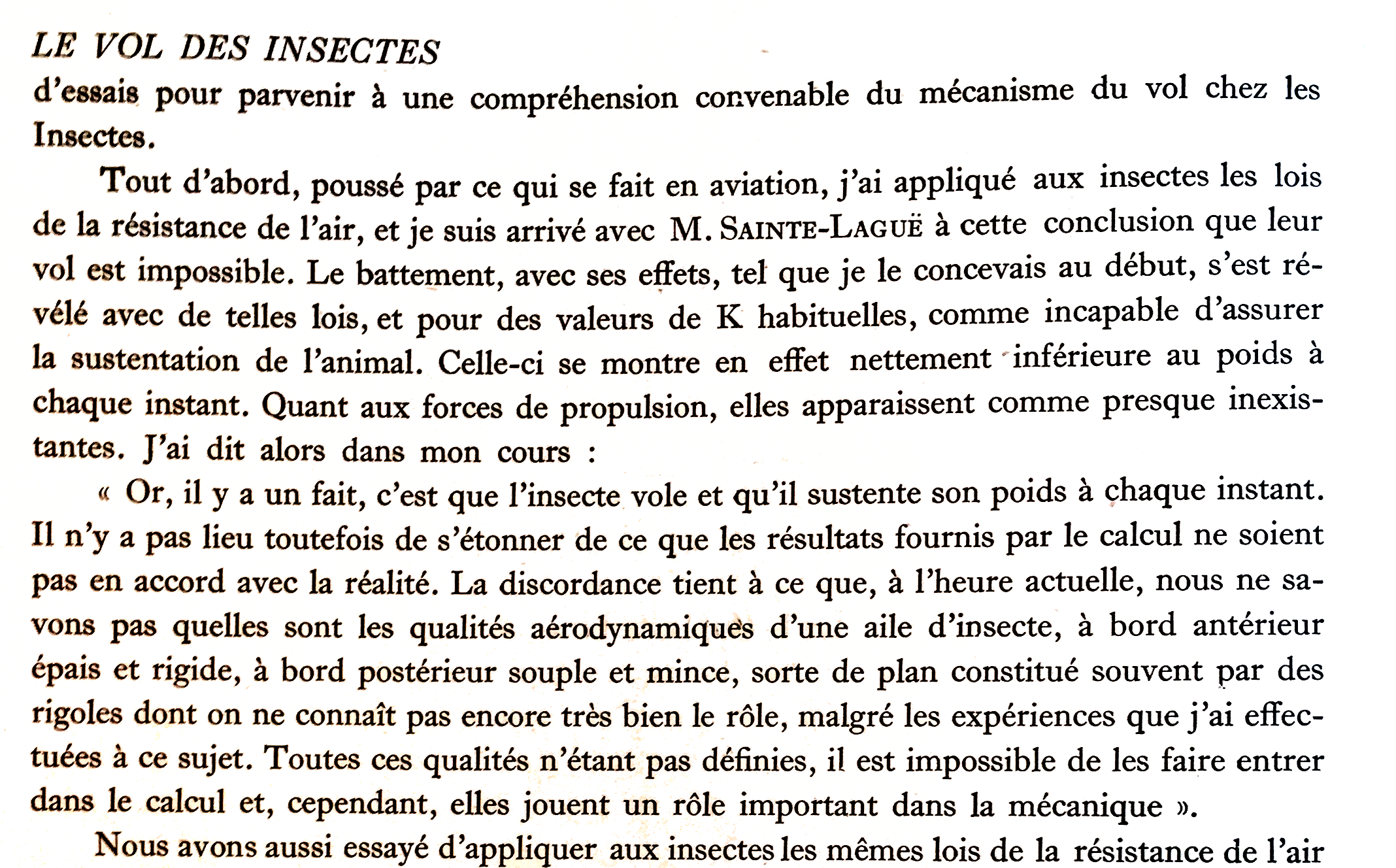 It's actually an awkward work to translate. Written in 1934 in the academic style, it's hard to get the real intent of M. Magnan. I elicited the help of Professor Frederic Canovas at Arizona State University. He says:
When the author writes,

« First, influenced by studies on flying, I applied the laws of air resistance to insects, and I came up with Mr Sainte-Laguē to the conclusion that it is impossible for them to fly, »

he tries to put himself in the shoes of the experimenter in his lab, describing his progress strickly from that point of view (of something still being experimented and not yet understandable according to the laws of physics). He then adds,

« I then told my students: The fact is, however, that insects do fly and support their own weight all the time,»

to indicate that there is a discrepancy between what he can demonstrate at this point in his experiments and what seems nonetheless obvious to anybody. In fact in the next paragraph he goes on trying to explain that discrepancy (« discordance » in French).
I don't know if this helps or even if it makes sense to you. The writing sounds old, and no one (particularly in academia) would write this way today.
The point of course is "there is a discrepancy between what he can demonstrate at this point in his experiments and what seems nonetheless obvious to anybody." It was never about denying the obvious, but letting the obvious fact indicate that there was much we still have to learn. And that's the path to the next experiment I talk about in the book.

---
The wrong way to test if the Earth is flat



Asking questions and proposing answers is about as normal for a human as it gets. One of our refinement steps is to ask questions that we can get answers to. For example, "Why are leaves green?" is not a scientific question. At least not in 2017. We know that the short answer is that of all the wavelengths of light that human eyes can detect, from red to blue-violet, leaves reflect the green and mostly absorb the rest. So then we ask the next obvious questions. What is "green?" That is, what is it we are doing when we detect and label something as "green"?
Coming soon in this section I follow that line of inquiry.